The dynamic digital twin of your roads
An online environment to view every detail of your roads, review inspections, review reports, and initiate maintenance planning.
Insights to optimise maintenance
INSPECH provides valuable information and estimations to help users make data-driven decisions regarding the reliability and availability of road assets. The solution is designed to empower users with the information they need to optimise their strategic operations, inspection processes and results to make more informed decisions about maintaining the reliability and availability of their road.

INSPECH enables the user to;
Determine the condition of their road network
Determine maintenance for the medium and long term
Identify the budget required for repair maintenance
Derive a deterioration rate based on inspection comparisons

INSPECH is an investment in the digital transformation of your operations and in the optimisation of your Life Cycle Costs Management.

Data ingestion: INSPECH ingests video footage recorded with an affordable GoPro camera setup, or with selected high-end scanning systems.

Section generation: INSPECH can automatically create road sections from your uploaded footage or import a custom shapefile.

GIS mapping and visualisation: INSPECH contains a GIS viewer that visualises road surfaces in the most intuitive way possible. It's almost like flying over the road surface, to inspect every detail.

Improved reporting and decision making: INSPECH's digital dashboard and reporting tools help road maintenance planners better understand their operations, making it easier to make decisions and allocate resources more effectively.

Collaboration and communication: INSPECH helps road maintenance planners collaborate with other departments, stakeholders, and the public by improving communication and coordination.


INSIGHTS
From £499/month
Data Ingestion & Conversion
Map Viewer (Dynamic Digital Twin)
A digital twin of your roads to make informed decisions.



The importance of

Life Cycle Cost Management

Life Cycle Cost Management (LCCM) for roads is of great importance to road owners because it helps them make informed decisions about road maintenance and preservation works that balance the costs and benefits over the entire lifespan of the road. LCCM considers not only the initial construction costs but also the costs of ongoing maintenance, future rehabilitation and eventual replacement, and the potential impact on the local economy, environment, and community. This approach helps road owners make cost-effective decisions, avoid costly mistakes, and ensure that their road infrastructure is maintained sustainably over the long term. Additionally, LCCM can help utilise limited resources better and make the most of budgets, which is especially important in times of fiscal constraint.

Before applying LCCM, a Life Cycle Assessment (LCA) of your roads should be made. LCA systematically analyses a road's condition during its useful life, typically as long as 20-25 years or more. During this time, the surface will deteriorate due to the effects of adverse weather, increasing traffic volumes, and vehicle weights, for example. The analysis uses the Pavement Condition Index (PCI), which is used to indicate the general condition of a pavement section, measured on a scale ranging from 0 (Failed) to 100 (Good). In addition, INSPECH provides defect severity ratings that support and feed this process.
Typical Pavement Life Cycle

This graph illustrates the typical rate of deterioration over a road asset's life. Damage tends to accelerate in the later stages due to poor condition. If preventative measures are not taken in time, it becomes necessary to reconstruct the road entirely. The costs of doing so are an order of magnitude higher than taking maintenance actions to intervene earlier and recover its condition and, by doing so, extend its life and defer reconstruction costs.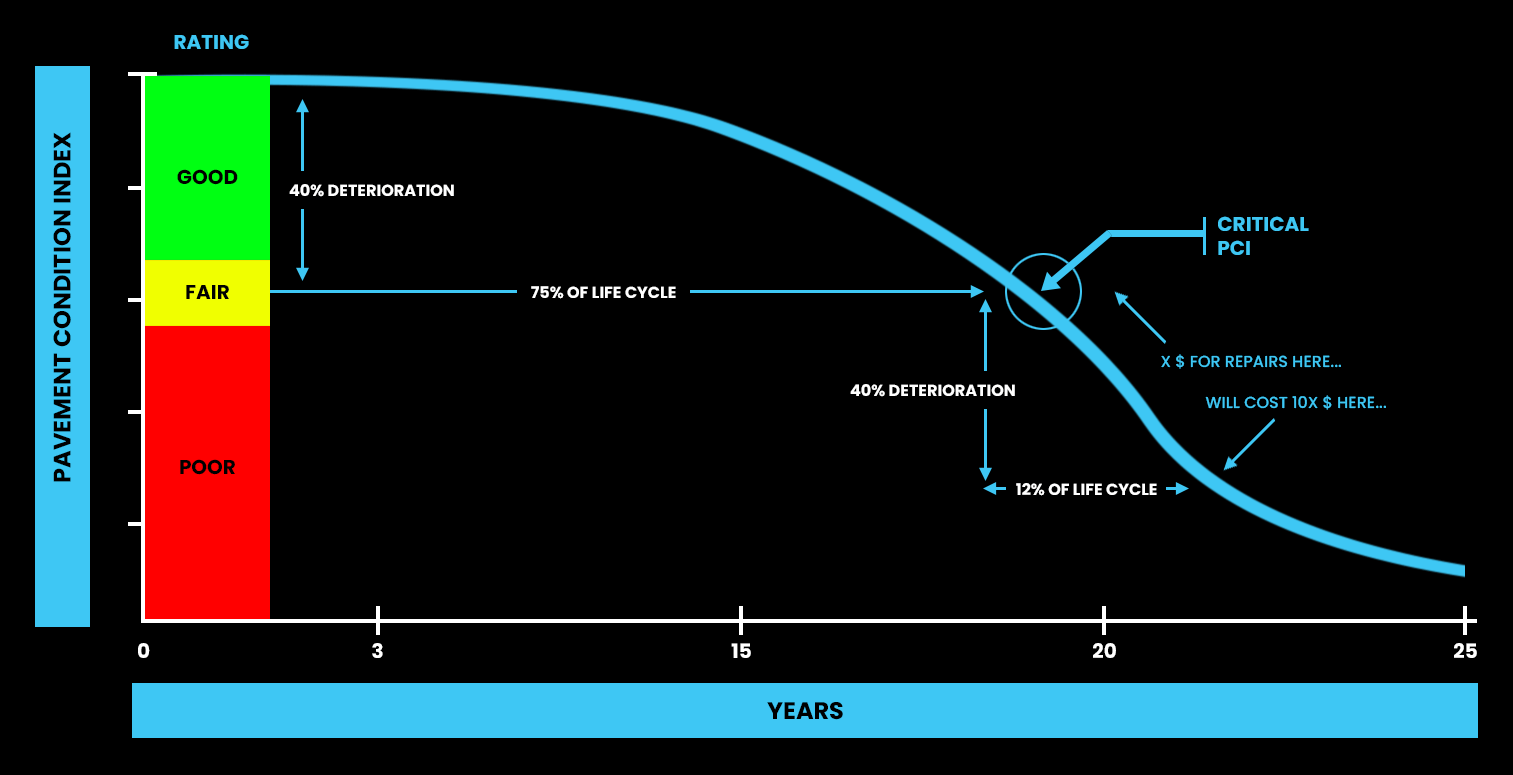 Optimised treatment timing

By making interventions proactively and repeatedly in this way, the asset's life may be extended well beyond its regular term, avoids costs and service disruption, and ensures the continued safety of road users. Road inspections are crucial to achieving this, and with INSPECH, increasing the frequency of inspections can be easily reached to provide continuous information about road conditions.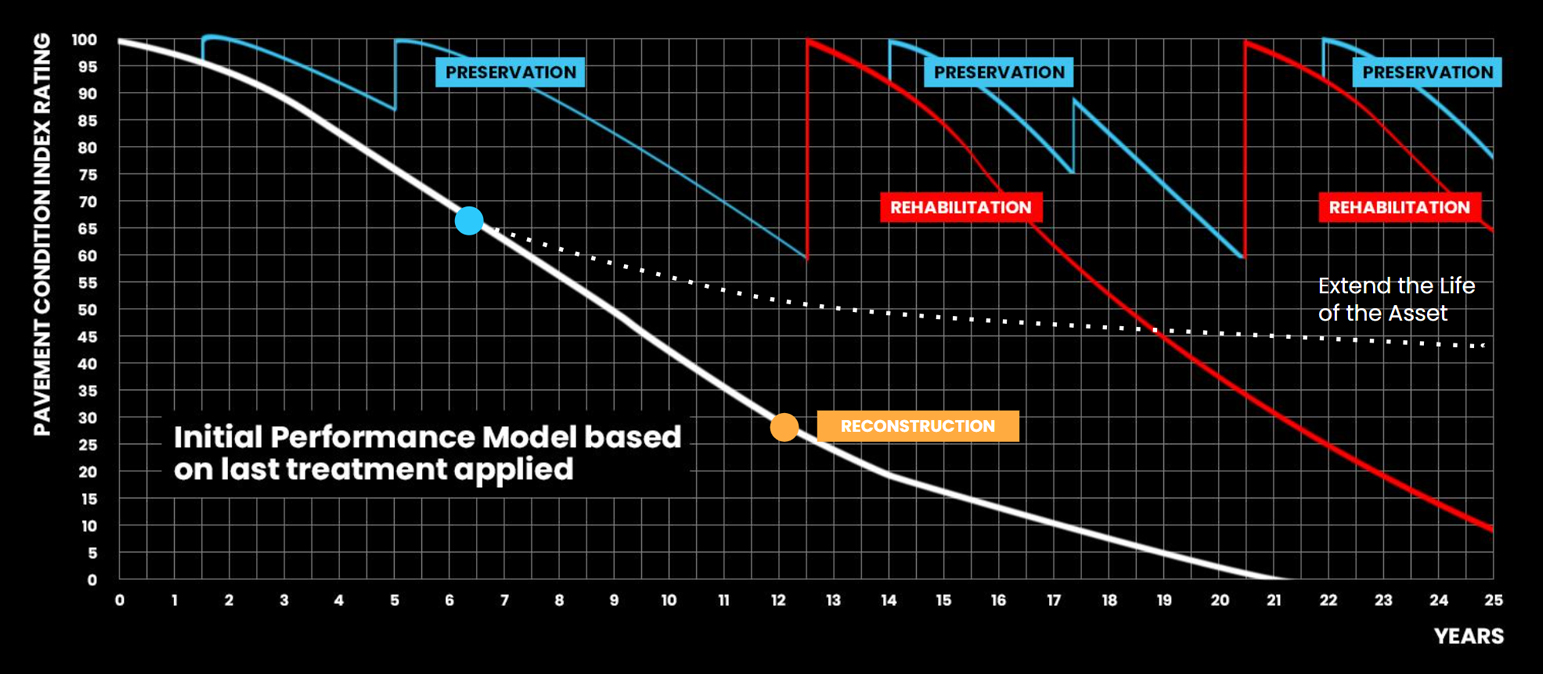 Road owners can understand the condition of a road over time and decide on the treatments necessary to repair or prevent damage to maintain its shape and prolong its life.
Additionally, the LCA helps in setting sustainability targets and defining a baseline for the LCCM. The LCCM evaluates the total cost of the roads over their entire lifecycle, including the initial capital costs, maintenance costs, and end-of-life costs. The LCA provides the context for the LCCM, as the costs associated with the environmental impact of the roads must be considered in the LCCM.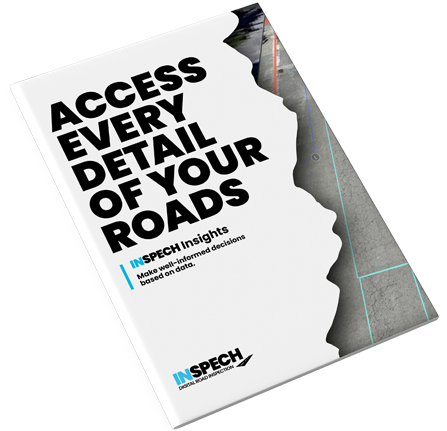 Download brochure
Insights to optimise maintenance

Unlock the full potential of your maintenance budget

Why you should use

IN

SPECH
The importance of Life Cycle Cost Management


Inspection partner ecosystem

Collect your own data with a GoPro